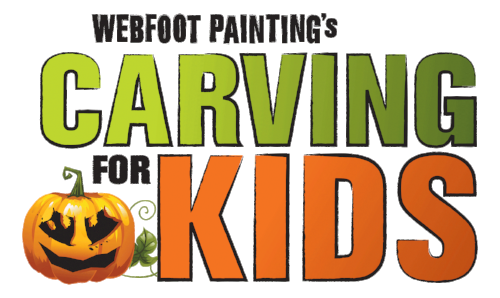 MountainStar is incredibly grateful for all the effort and enthusiasm put into Carving For Kids. Gavin Hepp and Travis Ulrich, co-owners of Webfoot, set a lofty goal to raise $30,000 to support MountainStar's work preventing child abuse, which would beat last year's record of $27,000 raised. Webfoot Painting's team amazes us year after year – more than $27,000 from pumpkins! We'll be putting those funds to use strengthening vulnerable families and keeping kids safe as a result. Thank you to all businesses and community members who contribute to this fun event!
How it Works
Use the form to the right to pre-order a relief-carved pumpkin with your business logo ($295). Our skilled carving artists will expertly etch your logo by hand into a pumpkin. Your custom pumpkin will last anywhere from 2 weeks to 2 months! All proceeds from your purchased pumpkin go directly to support MountainStar's child abuse prevention mission. Check out some of our favorite pumpkins from last year in the pictures below!
Pick Up
All pre-ordered pumpkins will need to be picked up at Newport Avenue Market on Saturday, October 20th from 10am-5pm. You can pay using the form to the right while ordering your logo'd pumpkin. You can also pay at the time of pickup or mail a check to MountainStar.
Carving!
Join MountainStar and Webfoot painting at Newport Avenue Market on Saturday, October 20th from 10 am - 5 pm to carve your own pumpkin for a cause! Cleaned pumpkins for you to carve are $20, a basic design carved by our master carvers is $30+, and a custom design carved by our master carvers is $40+ (depending on the design). This family-friendly atmosphere is a great way for you and your kids to eat, drink, and carve - all while supporting children and families throughout Central Oregon! Mark your calendars and don't forget to wear your costumes!
Donate
If you can't make it on October 20th you can still donate to this amazing campaign. Click here to donate to our secure donation page and help us reach our goal. Check out what we do to learn more about MountainStar. 
A big thank you goes out to:
And a big thank you to all of the businesses who bought logo'd pumpkins!